Reviews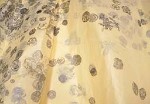 Louisiana Portrait Project: Sound and Silence
Rauch Gallery at Gaston College, Dallas, North Carolina September 2016 By Rosemary Poole-Carter On September 29th, the final day of the Rauch Gallery exhibition of Louisiana Portrait Project: Sound and Silence, I attended the artist's talk and viewed the exhibit along with a full gallery of art lovers and budding artists. Already a fan of Lisa Qualls's work and sharing her affinity for the state of Louisiana, I expected to enjoy her exquisitely detailed drawings of human forms and her imaginative installations—and was not disappointed. On one wall, a great swath of canary paper cascaded from ceiling to floor in a multi-layered rendering of camellias, irises, and magnolias, as if these flowers had been pressed among the translucent pages of an enormous book. Then, across the room, voice recordings of Louisianans telling their stories provided sound over silence above a panel drawing of multiple pairs of intriguing eyes. What I had not anticipated was how much the reactions of other attendees would enhance my pleasure in the art ofSound and Silence. Gallery patrons clustered in front of a large painting of Mr. Charles Robinson in a Louisiana cemetery, paused in his work of painting a tomb with "tombstone white" to offer a smile expressive of his devotion and pride in tending his parents' grave. Several art students asked Lisa Qualls to pose with them for photographs and selfies beside her work, each one grinning as broadly as the man Lisa had captured on canvas. Patrons discussed and lingered over a wall of graphite portraits of Louisianans, each meticulous drawing as revelatory of a unique personality as of the artist's consummate skill. The gallery hummed with questions and comments for Lisa and with conversations sparked by her work. I felt the respect that Lisa showed in her portraits for her subjects' intelligence, humor, heart, and experience crossed the divide that night between art and life. With a nod to Shakespeare's Prospero, I think Lisa proved to all of us in the gallery that we are such stuff as art is made of. Her choice to celebrate the humanity and beauty of Louisiana is particular, but, like all true artists, she makes the particular universal, drawing us all into her art.

REVEALING THROUGH HAND AND EYE: LISA QUALLS DELIVERS VARIOUS FORMS OF ART FOR THE CITY AND BEYOND

By Meghan Hendley-Lopez
Photo courtesy of Lisa Qualls

Noted in her bio section for living with her husband, three dogs and an evil monkey, artist Lisa Qualls balances her artistic life as a curator and a creator. Studying and portraying identity in unique ways, Qualls' work consistently portrays layers of intrigue and intimacy. These themes carry out in her group work and curating, all contributing to the visual landscape here in Houston. Lisa Qualls was kind enough to answer some questions about her work in her various forms.

Tell me about your background and how you grew into being an artist? Was it something in particular that struck you, sparked inspiration?

I have drawn and constructed things since I was very small. I recently wrote a description for Joan Son's Storyteller Project about drawing on the walls and lampshades in my grandmother's house when I was about 3 or 4 years old. My mother and aunt were and are artists, painters, ceramicists and amazing seamstresses. Also, my grandmother was an incredible seamstress. I grew up in a house decorated with prints of traditional paintings. I remember looking at those prints when I was about 4 or 5 and thinking that I wanted to be an artist when I grew up. Being an artist seemed a lot simpler at four than it does now.

Speaking on identity, your upcoming series is titled "The Louisiana Portrait Project" that brings together the combination of intimate views with a larger scope. What elements are in this project and how will the project play out?

As an artist, my work continues to be about culture and identity. Most of my artwork has focused on that subject matter for the last decade or so. Sometimes I approach those ideas from a universal standpoint and sometimes from a very personal, intimate standpoint. I have concentrated on the latter recently but am getting ready to embark on a long term project: The Louisiana Portrait Project that combines the two. My plan is to interview and photograph people from Louisiana. I am starting with a few people here in Houston. Using their stories about growing up in Louisiana as a beginning, I will travel to those locations and take photographs of the landscapes and/or buildings in their stories, meet people in those towns and cities, record their stories and photograph them and keep doing so until I have made an artistic survey of the state.

The end result will be a large body of portraits and landscapes (drawn, painted and printed) and installation pieces that are visual and audio, which tells about the people and the land in Louisiana. I decided to do this last year when I was driving from Baton Rouge, where I grew up, to Monroe, LA to visit the Masur Museum. I was thinking about how much growing up in such an incredible place has shaped me both as an individual and an artist. Growing up in a place that was rich with a culture created by many different cultures and the environment and topography itself is a culture unifying the many people that settled there — Spanish, British, French, Italian, African, Vietnamese and many more. I want people to know that Louisiana is not just stereotypes, Mardi Gras and oil spills. Louisiana is what America is: an amazing mixture of family histories. Families who have suffered and survived and thrived in spite of economic, political and environmental hardships. Families and communities that have created a unique identity and bond. I feel a very strong identification with this place and every time I get to go back and see the lush landscape and hear the language and the accents (there are many different accents in different parts of Louisiana, not just one), I feel an ease and a comfortableness that I do not have anywhere else.
One of your main outlets also includes an art gallery: Gallery Jatad. What is the mission of the gallery and what type of shows do you all focus on when curating the space?

My husband, Matthew Scheiner, and I are co-owners of Gallery Jatad. Matt is the director and I curate some shows. We curate some collaboratively. Our main concept is to pair traditional African fine art with contemporary art. The African objects are antiques and made for tribal use. We have used tribal galleries in Europe as a model, but unlike those galleries we are emphasizing aesthetic and historical value of the objects and not the provenance or European ownership. We want to honor the makers of the pieces and their skill and the complex cultures that created them. We choose contemporary art that compliments the African art aesthetically and curate shows that may have themes around materials, color, pattern, spirituality, utility or simply similar sensibilities.

The upcoming exhibition that you curated, 'Under the Milky Way' is on view now through March 8th at Gallery Jatad. Seeing there's a large array of creatures and subjects under the milky way, how did you choose the artists and what are some of the pieces they have brought to the show?

'Under the Milky Way' includes three contemporary artists and select African objects. The contemporary artists Michael Arcieri, David Humphreys and Gregory Page were chosen for their attention to detail and beautifully crafted work, as well as their interest in capturing nature: plants, animals and atmosphere. All three of these artists pay homage to traditional naturalists who documented the flora and fauna in the New World 300 to 100 years ago, but their interpretations are contemporary in concept and execution.

Qualls examines life's structure and order through her artwork on display at Islander Art Gallery
Elizabeth Reese
2. 7,.2012
Corpus Christi Reader

CORPUS CHRISTI — Creating balance can be difficult. Whether you juggle multiple jobs, family needs, friends or all of life's many daily tasks, it can be challenging to feel grounded physically, mentally and emotionally.

Lisa Qualls uses her skills as an artist to grapple with these and other issues in her works of art on view through Feb. 18 at the Islander Gallery in Hamlin Center. "Building Balance" presents three distinct bodies of work by Qualls, including "Strawmen and Sugarbones," "Absence" and "Personal Fetishes."

Qualls says she creates and presents this collection of work as a visual representation of how she builds a structure of thoughts and order in her life.

"Each body of work emerged from my desire to create a relationship between history and current events to my personal and immediate world," Qualls writes in her artist statement.

Pairing family and friends with unusual head pieces from costumes to reanimate objects with humans is the focus of the first body of work, "Strawmen and Sugarbones." Upon entering the gallery you come across these large, delicate and mysterious drawings with graphite on clay board. With the figures wearing only the head pieces, there is a surreal feel reminiscent of a Stanley Kubrick movie like "Eyes Wide Shut" or "A Clockwork Orange."

"Halloween Mask" is a work measuring more than 6 feet tall. The work features a young boy, wearing only the head of a sheep. With the figure positioned on the surface of the work completely off center, Qualls questions balance through a visual representation of imbalance along with the unusual juxtaposition of subjects.

Her "Personal Fetishes" series resonated the most with me as a parent of three kids. Even larger works of art feature a handful of small yet delicate depictions of objects that an unknown family member might have collected. "Things Lily might have Collected" includes a bird's nest, a drawer pull, a sugar spoon and a coin purse.

"These objects can become very powerful reminders of events or feelings. We might look at them often or keep tucked away in drawers, boxes and look at them now and then letting the smells, tastes, sounds and memories flood over us," she writes. Here we can explore balancing our memories of the past with moments in the present.

"Absence" is a body of work most different from the other two series. The word "absence" is used to invite us to ponder how the absence of knowledge and presence of imagination can be a powerful force. When we do not fully know a person, or worse, choose to ignore challenging characteristics, we can ignore the truth and instead construct a version of that person.

For Qualls, this body of work allows her to acknowledge the balance between powerful symbols of fact and fiction that can be assigned to a person. "Absence" eventually will include 100 imagined portraits of each of three women in her family. Qualls reveals that the work in this exhibition also presents work about Lily, one of her great-great-great grandmothers.

Imagined Icons
Mary Lambrakos
Strawmen and Sugarbones Catalogue
12/1/2010


Lisa Qualls has interrogated the human body since she began creating art in the mid-80s. Her latest exhibition, Strawmen and Sugarbones, is comprised of work that highlights the human body in unexpected compositions that merge contemporary figures with cultural artifacts, such as masks, headdresses, tunics, and veils. The tribal objects she selects, mostly represented in museum collections, are renowned for their iconic beauty. Their display as singular art objects, however, has severed them from their original context and use. Qualls reanimates these cultural artifacts by reconnecting them with realistically rendered human forms, restoring and invoking their experiential qualities. The figures in her work are not fictive, but rather based on her photographs of real-life models. In some cases the model wears a mask while posing, while in others the tribal element is absent and Qualls instructs her model to envision a pose that would complement the mask or object she has selected for the piece. She then superimposes the object onto the figure, sometimes literally creating a collage of her two-dimensional renderings of body and object. This anachronistic juxtaposition of the individual and the icon results in an image that is simultaneously concrete and abstract, native and foreign, familiar and exotic. Whether the figures appear in isolation or in groups, they occupy an indeterminate space of displacement where our culturally defined notions of gender, race, and tradition can be deconstructed, and questions of identity and historical authenticity can be examined.

Integral to Qualls' work is the depiction of the nude figure, both male and female. In Yemeni Mask, a nude standing male figure is rendered frontally, entirely exposed save for the portion of a traditionally female costume covering his face. The history of the nude in art is overwrought with symbolic significance: from the classical articulation of ideal beauty; to the "realistic" exposure of the female body in Courbet's The Origin of the World; to the nakedness of Manet's Olympia; to the modernist's fragmentation of the female body in Picasso's Les Demoiselles d'Avignon; to the post-modern deconstruction and rejection of the idealized nude-as-trope in Cindy Sherman's Untitled #255. The nude as a symbol is both charged and weighted by its historical adaptation and antecedents. And in the current post-modern context, exhibitions such as "Fractured Figure" appropriately contain works that break apart and dissect the human body, emphasizing its constituent parts through exaggerated re-assemblage. Qualls' work, however, provides an alternative: her bodies are cohesive units contained by supple contours. Though Qualls does indulge in the post-modern flexibility of combining different times and spaces, she, nevertheless maintains de rigeur a classicist vision of beauty. The nude is presented as an ideal template to be overlaid with complementary objects of beauty. There is no excess, but rather a conscious restraint and minimalistic approach to the body. Her color palette is muted as she refrains from embellishing colors.

In evaluating Qualls' work as a whole, it is noteworthy to return to an earlier work that prefigures the more classical visions of the most recent pieces. Tibetan Headdress verges on exoticism. Where white space will eventually dominate the background, here we encounter the figure in a constructed and enclosed setting. The figure is temporally and spatially contained, delimited in space by an Indian tapestry. While the actual pattern of the tapestry is "authentic," derived from extant samples, the size and scale and arrangement of the tapestry results from Qualls' imaginative manipulation of these elements. Perspective is achieved through the delineation of a chevron marking across the floor. The ostensibly Asian pregnant female figure sits passively, her hands fall loosely, one strategically shielding her pubic area from the spectator's vision. The ornate and luxurious headdress contrasts with the bareness of her body. Her face is exposed and while she looks away, her pose intimates compliance with the inherently voyeuristic position of the spectator. In many ways this echoes the Orientalist works of the 19th century, where the domain of art became an imaginative space to conjure up one's version of the "other." But as we will see in the progression of Qualls' work, it is evident that her intention is not to stereotype, but rather to celebrate the body as a universalizing element. Her work is rooted in a humanist ideal that the experience of the body, of living in one's skin, is a primordial and unifying stage of identity. It is on this universal template that difference is eventually inscribed in terms of gender and race.

The body, in all its manifestations, transforms into a pliable mold for the reanimation of the object; by extension, every(body) can function as an appropriate and potential vehicle for the transmission of an object's meaning. And in many works, Qualls exercises her artistic license through creative re-configurations. The vellum or gesso surface opens up to myth, as history and tradition can be subverted and experimented with. Take for example The Seven Graces where seven African Punu masks are worn by seven females, who vary in skin color, and by extension race. Traditionally, Punu carvers create these mukudj as portrait masks of idealized feminine beauty to be performed by males. In Qualls' work, both gendered bodies are fitted with the Punu mask. In Punu Mask a male figure sits cross-legged gazing downward. In contrast, the group of females, aligned on an illusory horizontal axis, displays a range of posturing. In Punu Mask, the singular mask is emphasized, whereas in The Seven Graces the inclusion of different masks deconstructs the hierarchical notion of the prototype. Different masks require different bodies, and while each mask echoes the one preceding it, the singularity of each figure is still maintained, as they do not interact with each other. Enveloped in a seemingly infinite space, the individual masks represent a collection of variegated idealized forms—the product of Qualls' re-envisioning of tradition and history. Qualls can simultaneously remove the dynamic context of the mask by presenting the male figure as seated, or restore this context via female bodies that sit, stand, and pose.

That Qualls constructs idealized visions of the body does not preclude a gendered or racial examination of her work. Gender features prominently in Qualls' work and is treated equally between male and female. Both genders are depicted as alternatively vulnerable or confident. This contrast can be seen in her depiction of two African Dan Masks. In Dan Mask the figure crouches as though in a pouncing position, freely exposing her breasts. While her face is covered, the directness of the mask suggests a frontal gaze that penetrates the mask barrier. The viewer is confronted, almost rebuked, by the mask and this implied gaze. In the larger Dan Mask the openness of the body is replaced by its containment. The act is one of concealment rather than revelation. The hands bring up the knees to cover the breasts and her crossed legs hide her pubic area. The crisp rendering of the eyes in the former mask is contrasted by the subtle modeling of the latter. Here the mask, further detaching the figure, successfully conceals any implied facial expression. Concealment to the point of isolation occurs in the Turkistan Veil Series. The veil is rendered opaque thereby completely hiding the female figure. This series of six pieces is distinct in comparison to the other work in this exhibition, in that the object now seems to consume the body rather than complement it. The delicate balance of object and body is now disrupted, as the veil falls almost oppressively to seclude the figure in anonymity. Is Qualls broaching political commentary in this piece? Qualls' work carefully traverses a line of neutrality, while gently provoking questions of this nature.

Male bodies are also subject to Qualls' scrutiny in terms of degrees of concealment and disclosure. In Yemeni Mask a male figure wears a black silk mask, a piece of an originally quotidian female costume intended to cover the female body in public. Qualls' creative license, again, transforms thin cloth into a seemingly aggressive piece of armor, now designated for a male body. Here the eyes peer forth from underneath meeting the spectator's gaze. The muscular nature of the attendant body evinces the corresponding power of the mask. Couched in African visual vocabulary, Salampasu Mask also represents male power and strength. These masks from the Congo region were made by and for hunters. The implied strength of the mask is complemented by the sturdy and large male figure, the bulbous forms of the headdress echoed in the fleshiness of the body. In Leaf Headdress, the identity of the "hunter" is revealed through portraiture. The once standing figure is now seated and his countenance captured. He is revealed to be a white, elderly male. Qualls creates an internal consistency in her work through the repetition of the same body while provoking questions of "identity," as the same body assumes a different significance through the alternation of masks. The power and dynamism of the Salampasu figure contrasts the calm and serene disposition of the man with the leaf headdress. This is suggestive of an underlying universalism, as divergent masks are unified through one figure. In Makonde Mask, the Tanzanian helmet mask, traditionally used in initiation ceremonies, surmounts the model's head. Makonde pieces are generally considered naturalistic in their depiction of the human form, many times integrating real human hair and scarification. In comparison to other figures such as Buffalo Mask, where the transition between mask and body appears seamless—the body transformed through its posturing into an animal-like figure—here is a more contextually disjunctive articulation of the relationship of the body to mask. Qualls chooses a black male figure as the mask's manipulator, matching skin color to mask. He is seated on a stool with averted eyes, and the direction of his gaze is paralleled by that of the mask. In a detail of Makonde Mask, the subtle similarities in features, the thin mustache and stylized hair, creates a harmonious union of the two heads where the individual and abstract coalesce.

Qualls' work is rigorous both in labor and detail. She constantly edits her work, erasing and redrawing until she achieves what she considers to be a successful representation of the image. It is her approach to the desired image that is classical as well, studied and deliberate, pursuant of an iconic image rather than a realistic one. This association with classicism should not, however, qualify Qualls' work as fixed or static. There is a dynamic quality to her work evidenced in the activation of the masks by placing them on living, human bodies. Intriguingly, what is most personal about the human figure, that is the face, the countenance, is obscured in many pieces. This obfuscation functions as a transformational element elevating the figure from the mundane and commonplace into an abstract space, heightening both the preciousness of the body and the object itself. Qualls describes the tribal elements in her work as "clear, pure, and to the point" and it is this sense of purity and concentration of emotion that they impart to the body.

Mary Lambrakos

Testimonial Text
Reflections on RAW
Rosemary Poole-Carter
09.08.09


RAW is both exhibition title and theme, uniting the work of artists Lisa Qualls, Doug Cason, and Mark Greenwalt. As a writer, not an art critic, I offer a personal impression of the exhibit, not a review of technique. Although if provoking thought and stirring emotion in a viewer are some measure of an artist's technique, Qualls, Cason, and Greenwalt each convince me of their mastery. Entering the O'Kane Gallery, I immediately find my prior knowledge and experiences challenged, my expectations played upon. The three artists meld ancient, historical, and modern concepts into images ranging from the beautiful to the grotesque, each one capturing a moment amid the mutability of body and mind.

The connection between artists and medical students in their studies of the human body has been much on my mind after reading Dr. Christine Montross's medical school memoir. In Body of Work, Mediations on Mortality from the Human Anatomy Lab, Montross combines the story of her education as a physician with her expressive gift as a poet. I am fascinated by her descriptions of the structures and workings of the human body, of the cadaver dismantled in the laboratory, and moved by the author's unfailing reverence for life amid death. Similarly, I am inspired by RAW's unflinching depictions of the body, in whole and in part, in beauty and decay.

On a membrane of vellum, Lisa Qualls draws nudes, classical in line, perfectly formed. Each figure is alone in its frame. In some drawings, while the body is exposed, the face is covered by an exotic mask. In others, only the torso is covered by a rough garment that would rub soft skin raw. In fact, my first impression of "Wicker Jacket" is of a lovely woman whose torso and arms have been skinned, until I realize the ruddy color belongs to the woven wicker that encases her upper body. The translucent quality of the figures' skin, their flawlessness juxtaposed by rough textures or ritualized scarification, their very smoothness heightens my perception of the raw.

In his work, Doug Cason presents a strange curriculum with painted book covers for censored copies of Magnificent Obsession, his florid and romantic images linked to underpinnings of organic decay. Echoing the chaos of revolution and civil war, Cason's battlefield paintings twist history lessons of the heroic standard of brave warriors, swords drawn, charging into the fight. He depicts the soldier's eye view—the smoke and confusion of the battlefield, images and events distorted as bodies are distorted and destroyed. I see, as if in funhouse mirrors, reflections of the carnival of violence. With swirling shapes and fluid colors, a scrap of uniform, a glint of metal, Cason simultaneously creates a clash of armies and reveals what is left when the battle ends: bloated corpses, tangled entrails. Raw, indeed.

Mark Greenwalt's meticulous anatomical drawings also suggest duality; the past of Leonardo sketching the interplay among muscles, tendons, and bones and a future in the uncanny results of genetic tampering. Over yellowed and sepia-toned panels, some spattered with rusty-red drops, as if the subjects' blood mingles with the artist's ink, deformed shapes emerge: a peculiarly plump old baby with a bird's head for a foot, a creature part chicken and part twig, a man with madness in his eyes and a depiction of madness growing out of his head. I think of Leonardo's prescient advice to artists: "dispel from your mind the thought that an understanding of the human body in every aspect of its structure can be given in words."

For artists seeking to represent human experience, as for physicians seeking to understand the human body and mind to cure disease and repair wounds, the body must be seen, observed in motion, exposed, laid open, and touched - taken in by the senses, even as it defies them, seduces and repels them. Christine Montross, reflecting on her time in the anatomy lab, wrote: "The human body harbors mysteries that are not solved by textbooks or studying, and, as I have been confronted with them, I have found myself amazed, humbled, and unnerved." Beauty abraded, magnificence destroyed, mutability caught in a moment - all part of the amazing, humbling, and unnerving images rendered by the artists of RAW.

Drawing Inspiration
Rosemary Poole-Carter, author of Women of Magdalene
01.25.09
http://southerngothicwritings.blogspot.com/

Each weekday morning on the way to the office of my day-job at a community college, I have the pleasure of passing the small, glassed-in campus art gallery. Then, each evening I catch another glimpse of visual inspiration on the way out, which often sparks ideas to mull over on the commute home and later apply to my night-job as a writer. The January exhibit of works by Lisa Qualls has captured my imagination and begun the New Year and the new semester with a remarkable blend of the timely and the timeless.

Imagine hoop skirts covered with diaphanous silks in the colors of ivory, saffron, cocoa, and cayenne, all floating in the space between floor and ceiling, seemingly waltzing on light and air. This is the vision that stopped me in my tracks, then compelled me into the gallery for a closer look and to hear the artist's commentary on her creations. Since my work as a novelist focuses on the mid to late 19th century American South, I immediately thought of plantation mistresses in their restrictive crinolines. But these skirts suspended in the gallery are so much more than costumes from a bygone era.

The series Lisa Qualls has entitled "Paris is Burning" combines the artist's research into the complicated relationship between Europe and Africa with her own experiences of meeting African immigrants in Europe. Qualls states she is "interested in how cultures absorb and share garment forms, patterns, body markings, and ritual objects." Her artwork reveals aspects of cultural identity, issues of immigration, and influences of colonialism that have shaped history and continue to affect current events. Some of Qualls's drawings incorporate period European textile and wallpaper patterns with African ritual masks or body markings. One especially arresting pencil drawing on vellum presents the image of an African man dressed in a stylish 19th century European suit and displaying ritual scarification on his face. Another depicts a hauntingly lovely African woman dressed in white, the hem of her gown blending into the intricate pattern at her feet, the design pigmented with coffee and beeswax.

And then there are the skirts of silk organza over cotton and boning, echoing the past and the caging and concealing of women's bodies, but offering, as well, other compelling layers of meaning. The artist calls her grouping of skirts "Surveillance Maritime", explaining it "is about Africans leaving in boats from the Canary Islands and trying to reach the coast of France." Qualls has applied text in English, French, and Spanish to the dyed silk, describing the European reaction to illegal African immigration. European surveillance of the coastal waters leads to the apprehension and return of Africans trying to enter Europe illegally and sometimes leads to the rescue of people in danger of dying in the boats. In the context of the exhibit, the hoop skirts become vessels, ribbed boats covered over with a skin of fabric that tells a story of a modern quest for freedom. Yet, they are reminders, too, of long-ago ships that carried Africans into slavery.

With "Paris is Burning", through layers of line, color, texture, and text, Lisa Qualls captures layers of complexity found in the enmeshed histories of Africans and Europeans. From her work I gratefully draw new inspiration for my historical fiction, a deeper sense of the ways cultures exploit and engage each other, and a greater appreciation for the interplay between the visual and literary arts.